Aeromur hope to commence operations at Corvera by April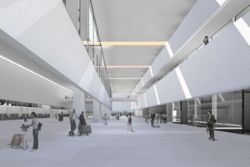 Sacyr - the builder of Corvera airport, and majority shareholder in Aeromur, the concession holder - has called upon AENA to name a date for the closure of the nearby San Javier airport to ensure that Corvera remains viable.
Construction at Corvera is expected to be complete by October, however, it has been muted that operations could begin by as early as April - May.
The exact opening date will depend on the Civil Aviation Authority awarding the required permits and licences to AENA, but Aeromur hope that some operations will begin in Spring of 2012, being fully operational by the summer.
Sacyr / Aeromur are confident that by that time San Javier will be used only for military traffic, and that all commercial operations will have been transfered to Corvera.
The issue for AENA is that they have recently spent up to 100 Million Euros in extending and developing San Javier and are seeking compensation from the operators of the new airport and the regional authorities in closing in favour of Corvera. A part of the compensation package is that AENA will Manage Operations at the new airport, which will remain privately owned.
The initial investment at Corvera was some 260 million euros, with Sacyr contributing 60% of the capital. The remaining 40% being contributed by CAM, Caja Murcia, INOCSA, Montisa, Grupo Fuertes y Cementos La Cruz who each take a 6.7%.
April remains the target opening date due to it being the time when many airlines launch their spring-summer schedules, and when many tourists start to visit the region.The airport is therefore reaching out to a number of airlines, with interest being expressed by Air Nostrum, and with a number of meeting being held with Ryanair to date.
Although other private airports have been in press for all the wrong reasons in recent days - notably Ciudad Real, which closed at the weekend, and Castellon, which has yet to see it's first flight, Sacyr remain optimistic that the demand for a destination like Murcia impose ensures the success of Corvera.