Spanish Economic Growth Slows to 0.0 pct in Q3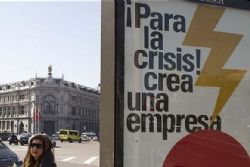 The timid slow of the Spanish economy ground to a halt in Q3 according to figures published by the Bank of Spain yesterday.
Although the economy had grown by 0.2% during Q2, the period July-September Q3 period saw 0.0% growth.
The Bank believes that the continued reduction in internal demand, which is largely due to there being nearly 5 million people out of work in Spain and the fear that unemployment is going to increase yet further in the coming months, is a major factor in this.
Internal demand fell by 0.8% in Q3 and although there have been 'slight increases' in business investment, that is also under threat as a result of Spain's banks needing to increase their capital to 9.0% as a result of the recent agreements made between EU leaders in Brussels.
The BOE highlights that in Q3, the Spanish economy has continued to be weakened in an atmosphere of crisis made worse by worries over the sovereign debt in the Euro-zone.
Official estimates by the Spanish government were for the economy to grow by 1.3% for the whole of 2011, although that prediction now looks almost impossible to fulfil and the bank warns that the slowdown in growth could cause problems when it comes to reducing the state deficit.
Although figures last week showed the Spanish state deficit continues to shrink, this was diwn to reductions in expenditure outstripping reductions in money collected by the state, which also fell.
If the economy should stagnate, then state earnings through direct and indirect tax will also fail to increase, making it hard to further reduce the deficit without further cutbacks in expenditure, which in turn could lead to a continued fall in internal demand.
Nevertheless, the BOE insists that whoever wins the General Election on November 20 will have to take the necessary efforts to ensure the deficit is reduced to 4.4% of GDP.