Spain's regional airports continue to decline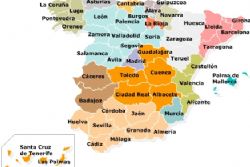 Following the departure of Vueling at Ciudad Real airport and Ryanair at Reus airport, question marks have been raised above the operational efficiency of regional airports and their failure to turn a profit, despite the regional governments subsiding low-cost airlines to fly into their airports.
Just 10 of AENA's 47 airports turned a profit last year.
Foronda airport (Vitoria), lost 73.9% of its passengers in the first nine months of 2011, flying just 503 people, yet is still in negotiations with both with Ryanair and Air Nostrum to continue flying there. Matacán airport (Salamanca), has lost 15.6% over the same period, accounting for just 30,000 passengers.
Huesca airport in particular lost a total of 4.2 million euros in 2010, however, the airport which was intended to accomodate 160,000 users per year has barely come close to the number in four years - during 2010 just 6038 passengers used the airport.
In July 2011 the airport set it's own record - flying just 15 passengers throughout the whole of the month.
In addition to Huesca, another Spanish 'wannabe' ski-resort airport is Lleida, in Catalonia, just 18 months old and still inactive after a total investment of some 94 million euros.
Albacete airport also recently lost it's only commercial flight - a link to Barcelona, after racking up debts of 30 Million Euros. Even though it hosts one of the longest runways in Europe, where an Airbus A380 can comfortably land, and was built to accomodate 2.5 Million passengers per year, in recent months passenger numbers have averaged just 65 passengers per day.
Leon airport, barely 12 months old and following an 80 Million Euro investment, is struggling to compete with three other airports in the same region : Valladolid, Salamanca and Burgos.
In Galicia, supporters of Santiago airport continue to criticise the unfair promotion of Peinador airport (Vigo), although business has been falling since 2008.
The latest airport to open was Castellón, on March 25, which has still not got it's first commercial flight scheduled.
Yet still the plans to open more regional airports continue : In Aragon plans to open Caudé airport in Teruel, and again in Huelva there are two projects to build airports : the private airport of El Pintado, and a commercial airport at Columbus airport. Furthermore, plans are ongoing for Caceres airport in Extremadura, with an estimated cost of 150 Million euros.
And then there is Corvera, Murcia - with plans to welcome it's first flight in April of next year, and construction set to be completed by October 2011, and located just 35 miles away from the existing airport of San Javier. Corvera has the unique position of being a privately owned airport - owned by Aeromur - but being managed and operated and managed by the Spanish Airports Authority - AENA.