Apple loses tablet case against small Spanish firm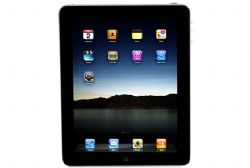 A small Spanish tablet maker has won a patent infringement battle with Apple Inc in a rare victory against the U.S. company in its global defense of markets for its iPads, a court document showed on Wednesday.
The Spanish ruling came as Apple awaits a court decision on a similar case against Samsung Electronics.
Spain's Nuevas Tecnologias y Energias Catala (NT-K) has successfully appealed a 2010 injunction from a local court to ban the import of its tablet computer - manufactured in China - to Spain.
"We think that, given this was during the launch of the iPad, (Apple) was trying to keep as many tablets from entering the market as possible," Pedro David Pelaez, a founding partner of NT-K said.
"We're nothing; let's be realistic. I don't think they were looking just for us, but the sum of all of us together was something," he said, referring to other makers of similar products.
Apple is locked in a bruising legal fight with Samsung in 10 countries to protect its position in the lucrative smartphone and tablet market.
Last week, Samsung won Australian court approval for fast-tracking its appeal against a ban on the sale of its new Galaxy tablet computer in the country.
As for NT-K, the company from the Valencia region of Spain is demanding compensation from Apple for losses during the ban of its product and is suing the U.S. giant for alleged anticompetitive behavior.
NT-K, which is also developing a software for computerized ordering at restaurants, had before the legal problems forecast the sale of 15,000 tablets in 2011 for a total of between 4.5 million and 5.0 million euros.