GE Hitachi renews Spanish nuclear plant contracts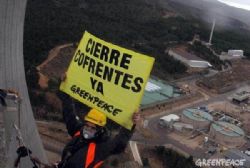 GE Hitachi Nuclear Energy said on Wednesday it has renewed contracts to service two nuclear power plants in Spain.
GE Hitachi, a venture between General Electric Co and Hitachi Limited , signed a new six-year deal to maintain Spain's Cofrentes and Santa Maria de Garona nuclear power plants, GE Hitachi said in a statement.
Under the agreement, GE Hitachi will provide a broad range of outage and refueling services, reactor pressure vessel maintenance and visual and ultrasonic inspections, among other services.
GE Hitachi did not say how much the contracts are worth. They include an option for a possible extension to 10 years.
One of the largest of Spain's eight nuclear power plants, the 1,092-megawatt Cofrentes is owned by Spanish power company Iberdrola and located in the province of Valencia.
It generates nearly 5 percent of the country's electricity and uses a GE-built boiling water reactor that began operating in 1985.
The 466-megawatt Santa Maria de Garona, located in the northern Burgos province, also uses a boiling water reactor built by GE. The plant is operated by Nuclenor, which is owned by Iberdrola and Spain's Endesa.