AENA extension of Alvedro terminal building to be complete in 12 months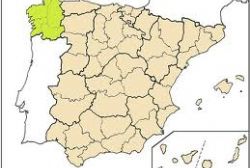 AENA has reviewed their project for expansion of the airport terminal building at La Coruña's Alvedro airport in Galicia.
The draft of the original plan of the new infrastructure shows two potential designs, with extensions of 5,000 and 14,000 square meters to the exiting building. At the moment AENA is favouring the larger of the two proposals, and has awarded the contract to the joint venture formed by Aertec and FSC Infraestructuras, at a cost of 907,200 euros and with a project deadline of 12 months.
A recently published environmental assessment study of proposal gives a positive case for the return of significant passenger numbers at the airport following declining figures over the last few months in the face of cut routes by a number of airlines.
The report estimates a that the new terminal will be able to process some 1.3 to 1.9 million passengers annually, whilst striving to accommodate the higher end of the range.
The study goes on to say how, whilst the arrival of the AVE high-speed rail network to Galicia is of little threat to the airport, that Alvedro will need to maintain a total of 11 flights per hour in order to sustain the required passenger numbers, whereas current maximum capacity at the airport is 10.
The PSOE spokesman for La Corruña, Mar Barcón, accused central government of neglecting the city, and stressed that the situation at the airport must be a priority "because it means development, advancement, connectivity and economic activity for the city, region and Galicia."
Barcón called for both local and regional government to address the haemorrhaging of flights that Alvedro has continued to suffer over recent months.
Yesterday Air Nostrum affirmed it's commitment to Alvedro over the winter schedule, with three weekly connections to Valencia, which will operate on Tuesdays, Thursdays and Sundays, following the abolition of the connection to Bilbao.
AENA also operate airports in the region of Galicia at Peinador (Vigo) and Lavacolla (Santiago de Compostella) airports.