Just 5 airlines from previous 20 remain at San Javier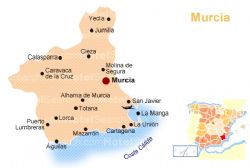 An unnamed source from AENA has revealed how just 5 airlines from the previous 20, have continued to fly to San Javier airport after cutting routes for the new winter schedule, which began last weekend.
Negotiations between the operators of Corvera airport and AENA are already in advanced stages and preparations are underway to transfer both employees and flights from San Javier so that the airport is handed back for exclusive use of the Military.
Over the course of the last 3 years, San Javier has lost over 651,000 passengers. The AENA website shows how from a record 2,002,949 passengers in 2007, numbers fell to just 1'3500 in 2010.
Over recent years many airlines have left the airport in favour of nearby Alicante, who have seen passenger numbers grow considerably.
The latest two airlines to leave Murcia were Air Berlin, which connects the San Javier with a number of German cities and Palma de Mallorca, and Norwegian airlines.
Air Berlin had already spoke of leaving San Javier, but eventually opted to stay, after reaching an agreement with the Murcia regional authorities after reaching an agreement to promote tourism in Germany. According to information provided by AENA, the remaining airlines who fly into San Javier are Air Nostrum, Madrid, Ryanair, Jet2 and Easyjet and The only international destinations at the airport are now Ireland, Britain and Belgium.
Airports currently connecting to San Javier include Bristol, Dublin, Edinburgh, Leeds-Bradford, London (Stansted and Gatwick), Manchester, Newcastle and Brussels. The only domestic route is to Madrid-Barajas.