Ryanair begin new route to Malaga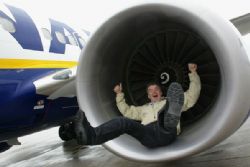 Today Ryanair began their new flight connecting the cities of Malaga and Manchester, with three flights per week.
>p>The Airline's Head of Marketing and Sales for Spain, Luis Fernandez-Mellado, announced the new route, referring to Manchester "a strong and artistic center an important financial and economic growth " in a bid to promote the route to Spanish tourists.
The airline expect the route to be a complete success, with the fist flight enjoying an occupancy rate of 95% .
The flight will operate on Tuesdays, Thursdays and Saturdays.