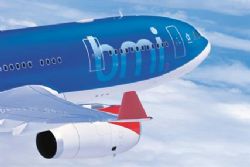 International Consolodated Airlines Group (IAG) - formed by the merger between Britain's BA and Spain's Iberia last year - plans to buy British Midland International (BMI) from Lufthansa.
Lufthansa, who have had an interest in BMI since 1999, took overall control just 3 years ago. The airline has traditionally operated a number of routes to North Africa and the Middle East and has seen business suffer as a result of the decline in demand due to the Arab Spring earlier this year.
BMI reported an 154 Million Euro operating loss for the first three quarters of the year.
The German airline announced earlier today that an agreement had been reached in principle with IAG, but the proposal still requires regulatory approval.
It is expected that an agreement will be finalised over the coming weeks, with the takeover to be completed in the opening months of 2012.