Santiago Airport Courts New Routes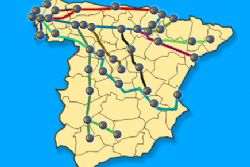 Germany's Lufthansa airline has expressed an interest in operating flights to Santiago's Lavacolla airport, according to AENA, who have also confirmed that Easyjet are considering routes to the Galician airport.
The announcement was made at yesterday's meeting of the Santiago Tourism Group, attended by the City Council, Turismo de Santiago, the local Hospitality Association, the Chamber of Commerce and AENA, with the aim of increasing tourism in the area around Santiago.
The group intend to attract airlines to the Santiago de Compostela and to promote the recently opened airport terminal at Lavacolla, which is considered essential in introducing the city as a tourist destination.
The region is still in negotiations with Ryanair, Air Berlin and Iberia.
The famous Camino de Santiago is the subject of a Hollywood movie "The Way" featuring real-life father and son Martin Sheen and Emilio Estevez. The route is one of the most ancient in the world and covers the whole of the north of Spain, where Pilgrims travelled to worship where the remains of St James are believed to be buried and where the name - Santiago - comes from.
The predicted popularity of the film is expected to benefit local tourism.