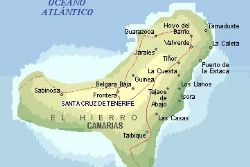 The Civil Protection Plan for Volcanic Risk in the Islands (PEVOLCA) monitoring the recent seismic activity on El Hierro have ordered the evacuation of the town of la Restinga, on the southern-most coast of the island, close to the recent underwater volcanic eruption.
The decision was made after observing changes in the eruption, which has now increased in intensity, and has now been accompanied with plumes of ash.
Around 250 residents of the town attended a meeting with the Mayor on the local football field, where they were advised by the Emergency Military Unit (UME) to leave their homes and seek temporary accommodation with friends or relatives, or, failing that, seek assistance and a temporary camp that has bee set up in nearby Valverde.
Under normal circumstances the town of la Restinga houses around 600 residents, however many residents have still not returned to the town since the first evacuation took place on the 12th of October.
Read further news stories about the El Hierro Volcano by clicking the link HERE .