New Terminal at Gibraltar airport operational during November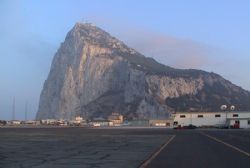 Gibraltar has almost completed their part of the airport, which will be run jointly with the Spanish authorities.
The proposal to have a shared airport was agreed in September 2006, but whilst the new terminal building in Gibraltar is all but complete at a cost of some 67 Million Euros, work has not even yet begun on the Spanish side. The Spanish budget is a mere 7 Million Euros, but disagreements between AENA and the Ayuntamiento of La Linea de la Conception have prevented progress being made.
AENA are believed to be waiting for an agreement to be made for flights to established with Madrid and other domestic airports, whereas Gibraltar believes that airlines will only consider routes to the airport once the works are completed, and when the tunnel under the runway is open so that traffic no longer needs to be stopped for every take off or landing.
The ayuntamiento of La Linea say that they are anxious to begin work as soon as possible, with plans for a three story terminal over 2,000 m2, with parking for between 300 and 400 cars. The Town Hall plans to manage the car park in a bid to generate income as part of the deal with AENA.
Authorities are meeting later in the week, where it is possible that an agreement may be reached, and form that point construction is expected to last a further 12 months. For facilities in Gibraltar are expected to be operational by the end of the month.