Catalan Politician Blames AENA as last Ryanair flight leaves Reus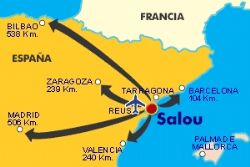 The Catalan Left wing republican party, Esquerra (ERC), led by Alfredo Bosch, has called for a re-establishment of the region's secondary airports, and for their management to be placed in the hands of the Generalitat.
Bosch went on to criticise AENA for giving Ryanair the excuse and opportunity of departing operations from Reus and Girona airports in favour of Barcelona's El Prat airport. He also complained that the move threatens to ruin the region's airport system.
In a ceremony at Girona airport, Alfred Bosch has went on to say how AENA had simply "opened the doors" at Barcelona's El Prat Airport to Ryanair, which has in turn led to the progressive abandonment of the airports in Lleida, Girona and Reus. Bosch has attacked AENA for acting "against the Catalan interests."
The last Ryanair flight will arrive at Reus at 19.30 this evening from Dublin, and depart at 19.55, which will mark the airline's ceasing of operations at the airport, although a limited number of flights are expected to return in the Spring.