Corvera airport causes delays to Murcia AVE link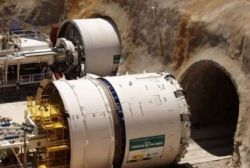 The on-going delays in the construction of Murcia's stretch of the AVE high-speed rail link has once again attracted criticism, following the publication of a report by the Ministry of Development.
In October 2010 problems arose on the stretch of line between Murcia city and Cartagena, which identified two years of delays due to the inability to solve two key problems. The request of the regional government to have an additional stop for the trains at Corvera international airport. Not an unreasonable request you may have thought, but this would mean the re-routing of an underground stretch of the line, which would also result in the re-routing of a number of sewers. As such the Plan General of the area and the projects would need to be modified, which the Ministry of Public works has still not begun.
Cartagena PSOE recently revealed estimations that the AVE would not reach Cartagena until 2014, before moving onto the regional capital, and then Lorca by 2015 at the earliest.
The Ministry has not formally announced any opening dates as yet, but have confirmed that a problems exists on this stretch of line, which is largely down to the sewers : "You have to have a technical report to move a Sewer. And that requires a three-way protocol between the local ayuntamiento, the regional government and the Ministry of Development. This is under review and the Ministry has claimed they will speed things up, but there has been no response" said a spokesman for the Department of Public Works.
It looks increasingly likely that the only solution would be to find an alternative route on the surface, however this would mean that the Ayuntamiento of the City of Murcia would need to amend it's General Plan to set aside and reclassify land for use for public facilities, which could potentially effect thousands of property owners.