AENA : No compensation for December ATC strikes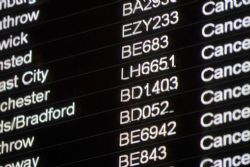 The legal representatives of AENA has sent a letter to the judge investigating the air chaos last December in which compensation is being claimed by those affected by the disruption.
Tens of thousands of passengers were grounded due to the disruption that was was caused by a wildcat strike by Air Traffic Controllers, which paralysed Spanish airspace , prompting the government to declare a state of alert, allowing the Military to assume control of operations at the the airports.
EFE report that AENA has quoted article 1903 of the civil code, which states that the liability of a person or company who is liable for damages caused by another "cease" when all diligence has been used in order to try and reduce the damage.
The letter goes on to reject the call for damages, stating how the Air Trafic controllers responsible knew that this would be a possible outcome and therefore a further attack on AENA.
For their part, the legal team represnting the claimants are quoting article 121 of the Penal Code, which states that public bodies, "damage caused by those criminally liable for willful or negligent crimes when they are officers, agents and contractors of the accused, or officials in the performance of their duties or functions" (in other words, AENA are still responsible for the actions of their employees).
The investigating Judge has asked the Ministry of Development to identify the people involved in negotiations between AENA and the Air Traffic Controllers since August 2010.