Socialist tries to gain points in Spanish election debate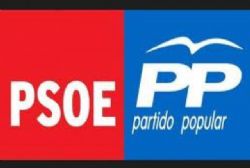 Spain's Socialist candidate for prime minister, lagging badly in polls, tried to paint his conservative rival as a threat to the welfare state in a televised debate on Monday that was not expected to save the Socialists from a Nov. 20 election rout.
Spain's sky-high unemployment rate and the euro zone crisis dominated the only scheduled debate between centre-right People's Party leader Mariano Rajoy, expected to win the election by a wide margin, and Socialist Alfredo Perez Rubalcaba.
The PP's lead is so large, 17% according to two polls, that Rubalcaba's only hope in the debate was to generate fear over Rajoy's economic plans to try to keep him from getting a likely absolute majority in Parliament.
"If you tell people the plans you have in your head, not even your own party members will vote for you," said Rubalcaba, attacking Rajoy for not giving voters enough detail on plans to drastically cut spending.
Rajoy is widely expected to implement deep austerity measures if he wins the election, to cut Spain's public deficit as the euro zone crisis threatens to drag the country into needing a financial rescue like Greece, Portugal and Ireland.
In the debate Rajoy pledged not to freeze pensions but Rubalcaba failed to draw him on where he would make cuts.
LITTLE IMPACT SEEN
"The impact of the debate is going to be rather low... We didn't see much new," said Ismael Crespo, head of the department of political communications at the Ortega Maranon Foundation.
"Rubalcaba tried to put in doubt the PP programme... to show it was a hidden programme... while Rajoy tried to show that Rubalcaba is part of the administration that has put Spain in the crisis."
Rubalcaba, who stepped down as interior minister to lead the Socialists in the campaign, said if he won the election he would be cautious about spending cuts and find ways to stimulate the stagnant economy by taxing the rich.
"Why didn't you do it earlier... your tax on the rich?" countered Rajoy, also a former interior minister.
Rubalcaba has struggled to differentiate himself from unpopular Socialist Prime Minister Jose Luis Rodriguez Zapatero, after working in his government for seven years.
"There are five million Spaniards who want to work and can't," Rajoy repeated several times in the debate, attacking the Socialists for mishandling the economic crisis.
One in five workers in Spain is jobless, the highest unemployment rate in the European Union.
The face-to-face did not include candidates from smaller parties, such as United Left, and the format, without questions from moderator Manuel Campo Vidal, a well-known journalist, left little room for surprises.
Rajoy, who lost two previous general elections against Zapatero, is generally considered an uncharismatic politician and his restrained campaign has benefited from the Socialists' mistakes.
However, snap polls after the debate showed him as the debate winner. In a Metroscopia poll for left-leaning newspaper El Pais 46 percent said they saw Rajoy as the winner while 41% thought Rubalcaba had won.
In interviews for state television, the editors of Spain's large newspapers said they thought Rajoy had won the face-off.
Nevertheless, some commentators criticised Rajoy for reading from his notes during the debate in which each of the two candidates were given blocks of time to speak and answer each other.
"A politician should be able to speak for three minutes without looking at his papers," said Julian Santamaria, professor in political sciences at the Complutense University in Madrid.
Rubalcaba repeatedly asked Rajoy to clarify aspects of the PP manifesto, including whether he would drop his opposition to Spain's gay marriage law.