Jet2 agree to fly into Corvera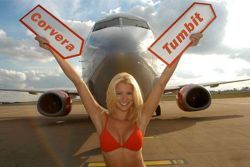 Jet2 yesterday confirmed that senior executives from the airline have met with representatives of the Regional Government of Murcia and Aeromur, and subsequently reached an agreement to fly to the region's Corvera International Airport.
Jet2 , who have been flying to the region's San Javier airport from 7 UK airports since 2004, urged Aeromur to delay the closure of San Javier and opening of Corvera airports until after the summer season has ended to ensure the minimum of disruption to travellers.
The airline intends to move more than 50 staff members to the new airport.
Ian Doubtfire, Managing Director of Jet2.com, commented: "We are very impressed with the user friendly airport facilities that have been built in Corvera and think it will be a very efficient airport when operational. The regional government has promised to keep us updated on the continuing discussions with AENA and have ensured that there are no disruptions to any of Jet2.com's scheduled flights to this important region - meaning passengers can look forward to their holiday.
"In the meantime we anticipate our full operation to continue at San Javier and will ensure that there is a seamless transfer at the end of 2012."