Madrid flights cancelled due to fog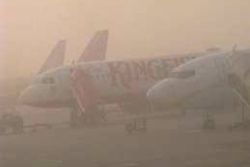 AENA have reported how this mornings first two flights from Madrid-Barajas and Bilbao airport were cancelled due to a cloud of dense fog that was covering the area surrounding the Basque airport.
The affected flights were due to arrive at 08.05 in Bilbao this morning from Madrid, and then returning the capital at 08.35 am.
All other scheduled flights have been unaffected by the fog, and by 10.00 this morning conditions had returned to normal.
Last month AENA criticised low-cost airlines for operating flights to northern Spain, where conditions are known to be foggy at this time of year. Seven unscheduled flights were diverted to Lavacolla airport in Santiago de Compostella, Galicia, where passengers were 1'000 passengers were transported by coach to destinations as far as Lisbon, some 240km away.