Chinese Businesses in Spain to Double by 2013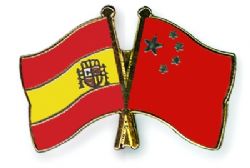 The Spanish Minister for Trade, Industry & Tourism, Miguel Sebastian, yesterday met with Chinese dignitaries to discus developing commercial relationship between the two countries.
The Global China Business Meeting is currently being held in the City of Valencia and was also attended by the Regional President of Valencia, the Mayor of the City and the Vice-Chairman of the China Federation of Industrial Economics.
The Minister commented how the Chinese had always been considered good friends to Spain, who currently receive the thirds largest investment from China in Europe, with the total number of Chinese companies in Spain expected to double by the end of 2013.
As a result of a strengthening relationship between the two countries, Spain expects to welcome more that 1 Million Chinese tourists in 2012.