DGT propose changes to General Traffic Regulations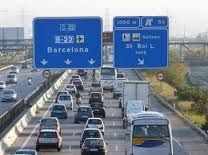 The Directorate General of Traffic (DGT) has proposed changes to the General Traffic Regulations, which will allow Mopeds & Motorcycles to travel on the hard shoulder when traffic is stationery, providing that the speed is kept below 30km and the driver excersizes extreme caution.
The proposed changes have been put on hold for the time being, until after the general elections have taken place in the event of a change in policy.
Further proposals will permit Mopeds & Motorcycles bicycles to weave across lanes and between other road vehicles to reach the front of a queue at traffic lights or an intersection - again, on the condition that this is done with "extreme caution".
Although both have been common practice in Spain, this is first time that they look set to become legally permitted as part of the general traffic regulations, which will also be renamed as the "General Regulation of Urban and Interurban Traffic", will contain a detailed section specifically for motorcycles, mopeds and bicycles.
Notable other proposals allow riders to move around the center of the road with a maximum speed of 50 kilometers per hour, and for bicycles to overtake other vehicles on either side.
It also suggests that bicycles can be ridden on pavements more than three meters wide (providing the density of pedestrians allows this, and with priority given to pedestrians) and when a minimum distance of one meter can be kept between buildings.
The GTR / GRUIT also proposes to authorize the use of bicycle trailers (where approved) and requires riders to wear helmets and approved and reflective clothing when cycling on interurban roads.
It is also proposed that Taxis be allowed to transport children without the requirement for providing special Car Seats , providing that allowing children to travel without a special seat, provided that the traffic flow in urban taxi or urban areas of large cities.