Generalitat de Valencia spend 15 Mln on non-existent building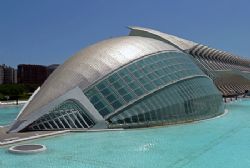 The PP's Generalitat of Valencia government, formerly led by Francisco Camps, paid renowned architect Santiago Calatrava more than 15 million euros for three skyscrapers to be located close to the Ciudad de las Artes y las Ciencias that are likely never be built, the provincial court has found.
Former President Francisco Camps was forced to resign earlier this year over his part in the Gürtel corruption legal case.
Payment of the 15 Million Euro "fee" was confirmed by the a spokeswoman for the Generalitat, who justified the payments as being a "property asset" that may either be be used or sold on.
Prosecutors have decided against pursuing the case due to a lack of evidence of the misappropriation of public funds. The spokesperson went on to say how work has been suspended on the project but that "the economic situation could change to a point where we decide to move ahead or sell."
Calatrava's office declined to comment. The court report states that the architect received an advance payment of 2.6 million euros on September 30, 2005, 137,000 euros on August 30, 2006 for models and plans of the towers, and two later payments of 6.2 million euros each for pre-project and drafting work, a total of 15.2 million. The PSOE regional spokeswoman for infrastructure, Eva Martínez, asked Alberto Fabra, the Current PP Regional President, to begin legal proceedings to recover the money from Calatrava.