Castellon airport : Airlines committed in 2013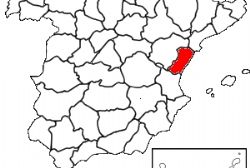 The CEO of Aerocar - the private owners of Castellón airport - Juan Garcia Salas, yesterday requested Consell aid to subsidize passenger arrivals from April of next year, which coincides with the opening date of the airport.
Salas also confirmed that negotiations are on going with Ryanair and Wizz Air to establish routes at the airport, but that they are requesting payments of between 2 to 6 Euros per passenger that they bring to the airport.
"We're talking with Ryanair and are looking at borrowing money from the Government," the Director told the press, basing his request on the terms of the National Competition Commissions ruling on Public Aid. He reasoned that Albacete airport had received over 7 Million Euros of aid since 2007, despite passenger numbers falling from 19´000 to 11´000 per year, with many other airports providing similar disappointing passenger numbers, yet receiving similar levels of financial support.
Salas also questioned the efficiency of a system that could pay subsidies of 82 Euros per Passenger at Salamanca Airport, 13 Euros at Zaragoza, but just 20 Cents at Valencia and Alicante airports.
Ryanair have expressed an interest in providing 10 flights per week to the airport, an average of 2´500 passengers per week, from Brussels and Milan, but have requested 5 to 6 Euros per passenger carried. Wizz Air are requesting around 2 Euros, and have agreed too establish routes at the airport starting from 2013.
Jet2 have also agreed to fly routes to and from Castellon airport as of 2013.