El Hierro Eruption : 1 Month Later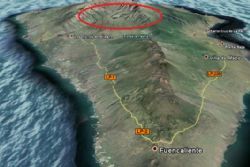 A meeting held by the committee for the Special Plan of Civil Protection and Emergency Response for Volcanic Risk in the Canary Islands (PEVOLCA) was called on Thursday afternoon, where experts from a number of scientific fields were invited to consult with the commitee on the on going seismic activity on the Island of El Hierro. Representatives from the fields of Volcanology, Oceanography, Petrology, Geodynamics, Geochemistry, Meteorology and Atmospheric and Geologic Hazards were invited to offer their opinions.
The volcanic eruption off the coast of La Restinga, on the south of the Island has now been erupting for 1 month. Yesterday it was revealled that the solidifying mass of magma being expelled from the fissure is now just 70mts below the surface of the ocean.
PEVOLCA also revealed that the Ph level of the water surrounding the stain has varied from 7.97 to 5.45, measured at a depth of 5 mts. The average Ph of seawater in the area is between 7.5 to 8.4. The CO² and H²S gas levels have been decreasing over recent days.
There has also been reports of the beaches at Tacoron and Puerto Naos being closed to the public due to a government worker being taken ill while measuring carbon dioxide levels.
With 'only' around 18 earthquakes being recorded for the whole of Thursday, it represented one of the most quiet days for activity since the recent earthquake swarm began.
Read further news stories about the El Hierro Volcano by clicking the link HERE .