Murcia Annual Property Prices Down 8.3 pct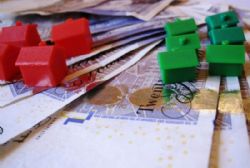 The Department of Housing released a their official house price index earlier this week, which revealed how the country´s property fell by an average of 5.6% over the previous 12 months. Prices decreased by 1.3% on the previous quarter.
Property prices rocketed by an average of 155% in the mid 2000´s up until the peak of the market on 2007. Eurostat, the official statistics agency of the European Commission, report that prices have "only" fallen by an average of 22% and as such must fall further before the property market can become attractive to investors once again.
Fernando Encinar, Head of Research at Spanish property portal, Idealista.com confirms that "Prices have still not hit bottom in Spain".
Prices were shown to have fallen the most of all in Tarragona where they were down by 9.1% (Cynics may draw parallels with Ryanair´s recent departure from the airport).
The capital came in second place, where property prices fell by an average of 8.5%
The Region of Murcia followed at 8.3%, and carries a glut of around 30´000 unsold properties in the region, and prices are estimated to fall by as much as a further 8-10% before prices stabilize.
This is likely to be of interest to property investors who have widely tipped Murcia as being the next area of growth. This follows recent successes of projects such as the announced opening of the Paramount Pictures theme park, as well as significant infrastructure developments such as the Corvera International airport, the Gorguel Dock at Cartagena, the AVE high speed link to region and a number of major highways.
Construction of the Paramount Theme park alone is expected to result in the creation of some 22´600 jobs, which will see a demand for accommodation increase even before tourists flock to the region.