Ryanair Introduce New Routes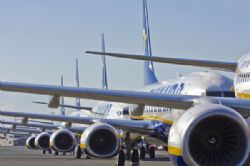 It is difficult to pick up a news paper without reading an article somewhere, that puts Ryanair in a less than positive light. Indeed, especially where Spain is concerned, many journalists are keen to focus on the number of cuts being made to to routes and Ryanair is more often than not the most obvious target for blame.
Spain is country with some 59 airports, 47 of them operated under the AENA network, and whose regional governments offer airlines subsidies varying from between 85 Euros per passenger (Salamanca) to 20 Cents (Valencia & Alicante).
Now I´m no fan of Ryanair, but they are a business like any other, and a business which must justify making a profit to it´s shareholders. In other words, when a route is not viable due to a lack of interest (and where subsidies can not sustain the route), it makes sense to close it down altogether. Equally so, when a number of routes have been closed, it makes sense to review the airport as being used as a base of operations. Sad, and inconvenient for expats living in the area, but this is exactly what has happened at Reus airport in Tarragona.
Equally so, Ryanair has come under fire for cutting routes at Alicante´s El Altet airport. Receiving just 20 cents per passenger in subsidies, it is obviously of greater importance to the airline to keep operating costs as low as possible at El Altet. So when airport officials announced a change to operational procedure halfway through the contract between AENA and Ryanair (which expressly agrees upon the disembarking of passengers by foot), stating that the airline must pay around 200 Euros per flight for the use of an airbridge, it was not well received.
Ryanair´s claim that the estimated 2 Million Euro per year unexpected surcharge was nothing more than a tax imposed to finance a new airport terminal building that was neither requested or required was perhaps justified. Especially when AENA are undertaking works to many other Spanish airport - if similar rulings and subsequent charges are applied in each case it could amount to tens of millions of euros, which would ultimately have to be reflected in ticket prices.
So maybe a stance against the bullying tactics of AENA is justified, and perhaps only Ryanair can demonstrate to them exactly how the tourist industry dictates the success of many regional economies.
However, what has received considerably less coverage than the cuts, are the new routes to Spain that the airline has introduced.
Just last week the airline introduced a Manchester - Girona link, with 5 flights per week, and a Manchester - Malaga route, with 3 flights per week and with both of the Spanish airports being designated links.
Ryanair have also this week confirmed their interest in establishing routes to Corvera and Castellon airports, however in both cases negotiations are still ongoing.