AENA defend closure of airspace in court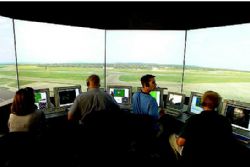 Lawyers and senior executives from AENA met with the Judge investigating last year´s Air Traffic Controller strike, to defend their decision to close Spanish airspace.
The Regional Divisional Chief of Air Traffic Service (ATM) for AENA, Antonio Almodóvar, confirmed that at 17:30 pm on December 3rd last year, 68 of the 70 controllers expected on duty failed to arrive at their stations after submitting a medical note that they were unfit to work.
Almodóvar, who was speaking in front of the Judge as a witness, explained that he had heard rumors of the wildcat strike the day before, whereby union official called for action to take place in protest over working conditions and the reduction in overtime pay. The Divisional Chief duty informed his superior, Director of Air Navigation North Central Region, Gabriel Novell.
Novell was originally expected to give evidence today, but will now be called as a witness, along with AENA´s Head of Operations, Monica Palacios, but this hearing has been postponed until later next month.
Almodóvar who is himself a member of the Union of Air Traffic Controllers Association (USCA) , said that he became aware of the rumor that controllers may apply Article 34.4 of Aviation Safety (which requires that the controller refrains from duty "in case of reduced physical or psychological capacity" when he announced he announced his intention to hold an external audit of central control.