Plans to build Malaga theme park announced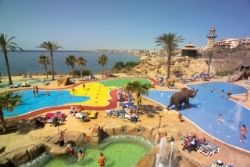 The Peñarroya group, headed by Cristobal Peñarroya announced proposals to build what they are claiming will be the largest Theme Park in Europe, according to Europa press. The park plans to cover an area of 250 hectares, and will be dedicated exclusively for rides and attractions, as opposed to having facilities for business delegates. The project, which will be built in Malaga, Andalusia "will come backed by a U.S. cinema corporation with expereince with amusement parks", said the group owner, Christopher Peñarroya.
Although no specific location for the park has been given, it is belived that it will be situated between two larger Towns in the east of the Province.
The Peñarroya group is in the final stages of securing funding from a German financial institution to provide the money needed for investment. It was also suggested that the project would "create up to 12,000 jobs due to the hotels, which would in turn accomodate 12,000 guests."
Specific details are thin on the ground at this early stage, but it is not difficult to draw parallels between this (proposed) project, and the Paramount Pictures Theme Park being constructed by Premursa at Alhamo de Murcia.
By comparison to the proposed 250 Hectare site, Paramount Murcia site will cover 108 hectares (however, the promotors of the Murcia park hold adjoining land for any phase II extension that may be proposed in furture years).