Mallorca to host new theme park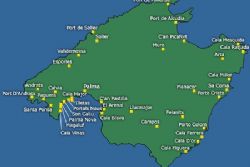 The Danish Theme Park Group (TPG) recently presented their proposal to build a new theme park on Mallorca, at an estimated project cost of between 200 - 300 Million euros.
The land selected to build the Theme Park is located between Llucmajor and Campos, which is away from the large tourist coastal developments, and being just 20 mins from the airport and 35km from the Island´s capital, Palma.
The project is expected to cover an area of 110 hectares, of which 60 will be used for the park, parking, as well as offices, maintenance buildings and warehouses etc... with the rest of the available land will allow for possible expansion of the park in the future.
TPG have partnered with CB Design, Global architects, Advanced Leisure Services and Scandroots, which essentially makes the park funded exclusively by Scandinavian investment.
The park will contain five separate themed zones : Mallorca Experience; Fantasy; Experience; Tropics and Pirates, which will each contain their own rides and attractions and will include at least three world class roller coasters.
Once open, the park is expected to welcome some 1.5 Million visitors every year and will employ 80 permanent employees, rising to 800 during the high season.
The park is expected be open during 2015 and will compete with Murcia´s Paramount Picture Theme Park, Port Aventura in Tarragona and EuroDisney in Paris. Earlier this week plans for a further park to be constructed in Malaga were announced (Click here to read), however this project is still at an early stage.