Lampard Scores a Currency Goal!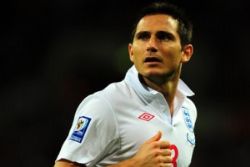 A fantastic show of skill and determination was displayed tonight at Wembley where England hosted a FIFA friendly against Spain.
The first half was full of nothingness as the host nation tried to shame the World Champions (Spain) to a goalless result.
As the whistle for half time, Fabio Capello was visibly nervous at the 0-0 result and was clearly determined to succeed. Wearing a beautiful lapel of flowers for his son's wedding earlier today, Capello decided to disregard the festivities and concentrate completely on the match.
History has taught the England team that timing is everything and the half-time pep talk should drive the newly united England team to succeed beyond expectations.
However, England have form and they have been punished hard in recent years. Despite this, after halftime, it was obvious Spain were determined to look good and lose rather than win and look bad as England pushed forward and fielded many fresh players.
Recent 'racist' accusations might be why John Terry stayed on the bench. Worryingly, Capello has proved himself to be more reactive rather than proactive and this decision only compounds the problem.
However, within minutes of the second half starting, Frank Lampard positions himself in front of the goal and heads home an impressive goal which shoves the host nation ahead of their visiting compadres. Moments later, Lampard is benched... Job done.
Almost instantly, currency markets across the world spike, pushing sterling above €2 for every pound meaning thousands of expats would instantly double or even nearly triple the value of their UK pensions and UK assets in Spain.
Immediately, every member of the Tumbit.com team was alerted to the situation and the rare 'RED ALERT' protocol was initiated.
When quizzed what 'RED ALERT' status was, Tumbit.com co-founder Dan Brammall declined to elaborate, however he did say "Every effort had been made to contact those who had previously enquired, contributed and/or commented on the Tumbit.com website within the 'RED ALERT' window".
"Our friends and followers on social networks are important to us". "We made every effort to contact them within the 'RED ALERT' window" continued Mr Brammall.
When asked how to make sure we are all notified when (and if) this situation occurs again, Dan said "The current economic climate means we are all in an incredible situation, completely unprecedented in our history. It is difficult to predict how currency markets will react to the emerging conditions across the EU and/or sporting events as proven tonight".
"I strongly suggest that tumbit.com visitors either contribute, leave a comment and/or register for our newsletter whereby we will do everything we can to keep you informed" said Mr Brammall.
Unfortunately, the gains in the Euro market were short lived as within just a few further minutes, sterling was forced back down to normal standards.
The remainder of the game demonstrated that friendly games are friendly as the Spanish coach, Vicente del Bosque, lets the rest of the match go without any kind of contest raising more questions around friendly/national/club commitments.
The English FA have been for many years at the forefront of international disagreement with UEFA and FIFA over the details surrounding obligations.
As always, FIFA and UEFA remain defiant and NEVER discuss official football issues in public, outside of official channels.
However, there are more pressing and serious calls for FIFA and UEFA to disband as a more 'charitable' and even more fan focussed entity would prove to be more favourable to the public and governments across the globe.
Late last year, December 2010, England famously lost their 2018 Football World Cup Host bid by getting knocked out in the first round of FIFA voting receiving only 2 votes out of 22 from FIFA executive members in Zurich, of which one of the votes was England's representative to the executive, Geoff Thompson. The final result after various rounds of voting awarded Russia the coveted prize of host nation in 2018 and Qatar in 2022.
Since the decisions, there have been mounting calls for current un-contested FIFA CEO Sepp Blatter to resign.
Whilst UEFA claim to be immune from FIFA influence, the recent issue surrounding the wearing of poppies and the ongoing BBC Panorama expose will no doubt force FIFA and ultimately UEFA to act in the interest of the fans rather than their obvious in-house political agenda.