Spanish election campaigning moves up a gear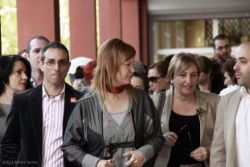 With the Spanish General Election just 1 weeks away, the political parties are wasting no oppoortunity in sending senior party officials out to the provinces to campaign for support.
Spaniards go to the polls on Sunday 20th November, where it is widely expected that the result will bring a change of government.
Recent polls of public opinion by El Mundo and El Pais newspapers separately place the Partido Popular opposition some 17 points ahead of the ruling PSOE party.
Alfredo Rubalcaba's Socialist party has been losing ground to Mariano Rajoy's right-wing PP over recent weeks. and this trend ecalated this last when t was revealled how Spain's unemployment has risen to 21.5% and now stands at 4.98 Million.
After 8 years of PSOE rule, voters look set to punish the government for escalating unempoloyment, unpopular austerity measures and their inability to rein in national and reghional debt.
Yesterday the Minister of Health, Leire Pajín, visited the town of Jalon in Alicante, where she met with locals at the Saturday morning rastro before going on to meet with local PSOE party officials.
Earlier this week party camapigning stepeped up a gear on the social networks. The PP sparked conmtraversy when they inisted that Twitter removed a number of posts issued by @nanianorajoy - a spoof account mirroring Mariano Rajoy's original posts.
Thousands of Twitter users have complained that this amounts to censorship and have called for all posts to be reactivated.
Photograph courtesy of Adrian Harvey Photography