Cathay Pacific launch new service at Zaragoza today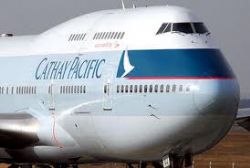 Cathay Pacific Airways have announced that they will launch a new service in Europe with a freight service to Zaragoza starting today, with flights to Hong Kong scheduled every Tuesday and Friday.
The new freight centre will be operated as an extension of one of the airline's existing freight services flying from Hong Kong to Amsterdam via Delhi, then on to Zaragoza before returning to Hong Kong via Dubai.
This new service will make Cathay Pacific the first and only airline operating a freight service between India and Spain, and now increases the number of European destinations linked to India to 7 : Amsterdam, Frankfurt, London, Paris, Brussels, Manchester and Zaragoza.
The Director of Cargo for Cathay Pacific, Nick Rhodes said: "We are pleased and proud to be able to expand our operation into Spain, a fast-growing market as a result of the recent growth of the garment industry. The market has great potential, with Spanish companies looking to expand further their business in Asia.
"In addition to serving Zaragoza, we will also develop other major Spanish destinations by providing a trucking service from the city to Barcelona, Madrid and other key commercial centres." He continued.
The airline has also recently added new services to Bengaluru in India and Chongqing and Chengdu in Western China. The airline has recently taken delivery of its first Boeing 747-8F freighter aircraft, with three more to be delivered before the end of the year.