Ryanair reward staff for hand luggage clampdown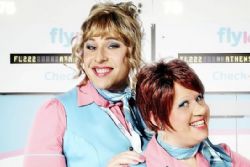 Ryanair has once again hit the headlines - this time for introducing an incentive scheme that rewards employees of Servisair - the airports contracted baggage handlers - for the number of passengers that they stop and fine for carrying over sized or overweight hand luggage.
Employees at John Lennon Airport in Liverpool will receive a 50p bonus for each piece of luggage they identify, but payments are only made when the employee has identified at least 10 such incidents in a 7 day period.
This is expected to result in an increase in vigilance from Ryanair staff and less lenience with borderline cases that may previously been allowed to `slip through the net´.
However Servisair employees have only been offered such a bonus from Ryanair and not the other five carriers operating from the Liverpool facility, which include KLM, Easyjet and Flybe.
Fines for excessive hand luggage start from £40, and the incentive has been introduced in response to the increased trend of passengers carrying more hand luggage in recent years in an attempt to avoid the costs involved with hold luggage, which can often save passengers as much as £55 each way.
Liverpool John Lennon airport handled some 5,013,940 passengers in 2010, with Ryanair flying routes to Spain via Alicante, Fuerteventura, Gran Canaria, Lanzarote, Málaga and Tenerife-South airports year-round, and to Girona, Ibiza, Murcia, Palma de Mallorca and Seville seasonally.