Students denied boarding by Ryanair claim compensation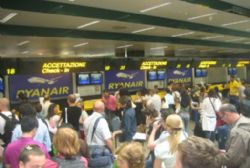 Spainīs Ministry of Development has contacted Ryanair to ask then to reconsider their stance in offering financial compensation to a group of Spanish students who were denied boarding on a flight earlier this year.
73 students of the Prince of Asturias High School in Lorca each paid 450 Euros for accommodation, and a further 135 Euro for ticket from Alicante El Altetīs airport to London, where the party was denied boarding due to three of the party requiring a visa due to their being non-EU nationals.
The European Union, together with the UK Border Agency agree that students who are not EU nationals, but who are resident in another EU member state, will allow school children to travel as members of a school group without requiring a visa.
Furthermore, the organisers of the trip claimed that the group arrived at the airport with plenty of time for the group to be processed, where check in staff and management insisted on seeing a visa, even though airline officials had earlier confirmed their agreement with the EU policy. By the time that the airline realized their mistake the gate had closed and the plane had departed without the group.
The Ministry of Development has called for the airline to compensate each student 250 Euros plus the value of their ticket, and has reminded the school that they can persure the case in court if compensation is not forthcoming.