AENA send complaint to City over use of laser pens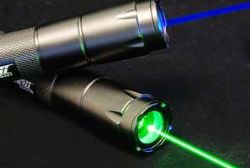 AENA has contacted the city government of Alicante where they have been asked to monitor the usage of `laser pens´around El Altet airport, which, when directed to approaching aircraft, can cause temporary blindness to the pilots.
A statement issued by the Director of Security for AENA, Juan Rosas, sent to the Town Hall speaks of how serious the increase in incidents at the airport has become
The Ministry has undertaken to become more vigilant and has also agreed to regulate the use of similar lighting pointed skywards by nightclubs etc..., agreeing that they should be regulated by AENA´s Department for the coordination of operational Airspace .
Any existing or new businesses requesting licences for this kind of laser used for advertising and promotional purposes will now be subject to closer scrutiny and regulation, where both AENA and the local government will now determine the validity of the licence before granting it´s issuance.