Court rules AENA not liable for damages following ATC strike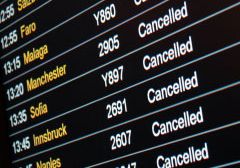 Spainīs High Court has ruled that AENA is not liable for any compensation payments claimed by passengers who were affected by the air traffic controllers' strike which disrupted airports across the country over last Decemberīs bank holiday weekend.
The court found that controllers who chose not to report for duty were the only party responsible for any damages and inconvenience caused.
The Court described the action taken by the ATCīs as "extraordinary circumstances that could not have been avoided even if reasonable measures had been taken", and as such ruled the incident to be "force majeur".
When summing up, the magistrate called the incident "entirely unforeseeable" that almost all ATCīs had chosen not to report for duty at the same time, citing illness. He continued, that the fact that this had been seemingly arranged in advanced was all the more exceptional.
The Court acknowledged the difficulty and skill required of the position, and as such replacements could not be easily found, which made the incident highly unusual.
"The fact that Spanish air space was closed and a State of Emergency had to be declared on these dates emphasises the absolutely exceptional nature of the situation" the Judge said in summing up, "In these conditions, any solution other than closing air space and workstations would have been considered imprudent by any criteria, in terms of public safety and the security of the airports" he continued.
Although the court conceded that the incident was not entirely unforeseeable,it acknowledged that it was impossible for AENA to find a solution to the problem at such short notice, and as such ruled that the following disruption was caused by circumstances beyond itīs control.