AENA meets to discus future of Huesca airport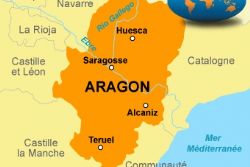 The regional Government of Aragon, together with the City of Huesca and representatives of various tourism and business associations, met with AENA met this week to discuss Huesca airport.
The airport has experienced a steep fall in traffic numbers over recent months and is frequently held up as a `white elephant´by the press.
By the end of October the airport processed just 2´768 passengers for the entire year - representing a a 53% fall in traffic for the same period in 2010. The data, taken from AENA´s own website also show how commercial freight fell by 74% over the same period.
The airport did not welcome a single passenger for the whole of the month of October
The Regional Government of Aragon called for the establishment of a working group to explore possibilities to grow traffic at Huesca, with the Ministry of Public Works in particular pointing out the "Opportunities and advantages" that the airport offers, with regards to the pilot training facilities at the airport.
Even though passenger numbers are so low, with 500´000 being the accepted minimum quoted by industry experts before an airport becomes profitable, the airport is still obliged to maintain minimum in order to keep it´s aviation license, including air traffic controllers and emergency equipment. This results in expenses without revenue. Therefore, in 2010 the airport recorded a loss of some 4.3 Million euros.