Battle of Spainīs Theme Parks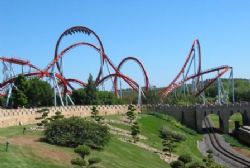 In the last few weeks alone it has been announced that plans two further Spanish theme parks have been proposed.
This is in addition to the Premursaīs Paramount Pictures Them Park project at Alhama de Murcia, set to open in 2015.
The first of the two new projects to be announced by the Peņarroya group, a promoter and developer with considerable experience with hotel resorts, to be constructed in the Malaga area of the Costa del Sol. The exact location of the proposed site has not been given, but it is believed to lie in the East of the Province and be equidistant between two Towns. The promoters are already boasting that the park will be the `largest in Europeī. However, at `justī250 Hectares, it falls way short of the 900 Hectare footprint that Disneyland Paris currently occupies.
Whilst an opening date - let alone a date for commencement of the project - has not yet been announced, the Peņarroya group has confirmed that they are "in the final stages of negotiating finances with a German Institution" and that the park will be backed by a "US Cinema corporation with experience in amusement parks".
The second park was announced by the Danish Theme Park Group (TPG), and will be located on a 110 Hectare site between Llucmajor and Campos on the popular holiday island of Mallorca. The project will cost an estimated 200 - 300 Million Euros and be financed exclusively by Scandinavian investors. The park is expected to be fully open by 2015 (As is Paramount, Murcia) and will employ some 800 staff in the height of the season.
Although the definitions of Theme Park : Amusement Park : Water Park are blurred, just a few of the Parks currently operating in Spain are as follows :
Isla Magica (Sevilla)
Monte Igueldo (San Senastian)
Parque de Atracciones de Madrid (Madrid)
Port Aventura (Tarragona)
Terra Mitica (Benidorm)
Tivoli World ( Benalmadena)
Whilst the investment in the country and the construction sector is undoubtedly to be welcomed, as are any resulting long term positions of employment, the following question must be asked :
" Does Spain actually need - and can it sustain - a further 3 theme parks? "