AENA Workers at Seville Strike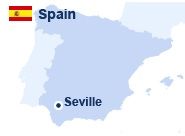 AENA Employees at Sevilleīs San Pablo airport have held the first of their six day protests today.
Ground Crew at the airport have planned to hold protest days on the 17th, 18th & 25th November, and again on the 2nd, 3rd & 4th December, which have been specifically planned to coincide with the Davis cup final in Seville, and the period leading up to the bank holiday weekend.
The CCOO Union called for the action in protest over the risk of employees and passengers at the Airport due to the failure of airport officials to observe minimum levels of staffing. The national aviation authorities and international Civil Aviation Organization recommend that the airport maintains 6 Firemen and 4 Signalmen, whereas the airport employs 3 and 1 respectively.
AENA counter that the number of shift workers has risen by 35% since 2007, and that operational security is "fully guaranteed" and therefore does meet the safety requirement of both agencies.