Latest polls predict Rajoy as new PM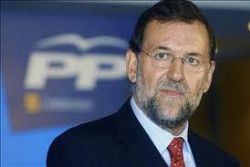 Opinion polls in Spain ahead of the weekendīs general election are forecasting a decisive victory for the Partido Popular.
Polls published by both El Pais and El Mundo have shown how the gap between the ruling PSOE Socialists and the PP has widened over recent weeks, and that the Conservatives are expected to be victorious in ensuring that they are the main driving force at all levels of Government.
The poll shows the PP taking a landslide victory, securing between 190 to 195 MPīs - 74 more than the PSOE who are expected to return between 116 and 121 MPīs.
Jose Luis Rodriguez Zapatero, the current PM who is not standing for re-election in favour of Alfredo Perez Rubalcaba as the PSOE Presidential candidate, has kept a low profile during the election campaign, with party seniors wishing to disassociate Rubalcaba from the unpopularity of the previous administration.
Equally so, the PPīs Presidential candidate and likely new PM, Mariano Rajoy, has also kept a low profile, perhaps banking on the fact that the tide of public opinion is already pushing him in the right direction, and that revealing his intended policies at this stage may be detrimental to his success.
Although the PP have made no secret of the fact that spending cuts will be implemented, they have not been forthcoming with specific details and seemingly have no problem that they are gaining popular support for no other reason than they `are better than the alternativeī.
A recently televised TV debate between the two party leaders was criticised for a lacklustre response from each candidate and with each party failing to present any convincing solutions to the current economic crisis.
Although it is the two mainstream parties that are attracting the majority of the attention, the countries smaller regional parties are expected to be the real winners at the polls, gaining support and strengthening their representation in parliament.
A recent survey by Spain's Center for Sociological Research also shows that the Spanish public views its politicians as the country's third major societal problem behind unemployment and economic uncertainty.
Under 20% of those surveyed believed Rajoy or Rubalcaba will be able to solve Spain's debt woes, largely due to more people believing important economic decisions are no longer taken by national governments but instead by multinational institutions.
Many fear the effect that any significant changes will have on stability and democracy, and as such any policies implemented by PP after the elections are expected to be similar to those of the PSOE over recent years.
The EU and IMF has called for austerity, cuts in public spending and retrenchment of social as measure in reducing public deficit. Furthermore, the PP will move toward deregulation and increasing flexibility of the economy to improve international competitiveness and reduce labor costs.