Valcárcel reassures San Javier airport workers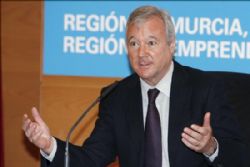 The President of Murcia, Ramón Luis Valcárcel, said today that the words of the Government Delegate, Rafael González Tovar, "have clouded the election campaign", and accused him of "not playing fair in any of the cases ".
The President, speaking moments after opening the XL National Congress of Hospital of Our Lady of Lourdes, addressed employees of San Javier airport and spoke of the transition of their positions to Corvera "No one should suffer from the loss of a job, because no one will lose a job," he asserted.
Valcárcel went on to acknowledge the importance of having AENA as a part of the team, responsible for the management and operation of the new airport at Corvera.
Earlier this week the Regional Minister of Public Works, Antonio Sevilla, met with the Secretary of State for Transport, Isaiah Táboas, to agree on the immediate future of negotiations. The agreement commits to protecting the transition of operations and staff between the airports, together with the settlement of compensation payments with AENA for the closure of San Javier.