Rubalcaba criticised for requests to reopen closed airport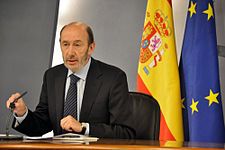 The Presidential candidate for the ruling PSOE party, Alfredo Pérez Rubalcaba, has been criticised for attempting to re-open Logrono airport after its closure at 20.00hrs on Sunday, to enable him to return to Madrid.
AENA Air traffic controllers refused his request and he was forced to spend the night in la Rioja.
Rubalcaba´s election campaign team asked the Air Traffic Controllers on duty at the airport to rearrange their shifts, but their request was turned down. Following the decision the team then contacted AENA, who proposed that the private airplane could be controlled by tower at Torrejon, Madrid.
Air traffic controllers across Spain were offended by the apparent abuse of power by the Socialist candidate, with Cristina Anton, a controller at Palma de Mallorca calling Rubalcaba´s request a "frivolous tremendous and far-fetched solution."
Anton continued that an airport "is not a restaurant you can just open for your four friends."
A number of controllers also complained directly to AENA, who approved control of the flight from a Madrid control Tower, hundreds of miles away, when no lighting, staff or firefighters were on duty at Logrono.
Both Alfredo Perez Rubalcaba as Mariano Rajoy used private planes to go faster to electoral events.