El Hierro Volcano : Update 19th November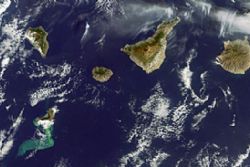 Scientists from the National Geographical Institute (IGN) observing recent seismic activity on the island of El Hierro have reported a total of 13 earthquakes between 17.00 GMT Friday and 17.00 GMT Saturday.
The current tally for the number of earthquakes in the recent swarm now stands at 11'628.
As seen over recent days and weeks, this activity was focussed in and around the El Golfo bay area, off the Coast of Frontera on the the Northern side of the Island. Magnitudes ranged from 1.5 to 2.8 on the richter scale and the depths varied from between 16 to 23 kms, with he strongest of these earthquakes was registered at the shallowest depth.
As far as Volcanic activity surrunding the underwater eruption to the south of the island, off the coast of La Restinga, the air quality is reported to be improving and marine life is slowly returning to the area. The seismic harmonic activity, whilst still significant, has also decreased over recent days.
The Envisat satellite from the European Space Station (ESA) also passed over the Canary Islands later last week in order to capture a clear image of the stain eminanting from the eruption (Underwater volcanic eruption in El Hierro seen from space by ESA) >>>
Read further news stories about the El Hierro Volcano by clicking the link HERE .