PP Take the General Election With Landslide Majority Vote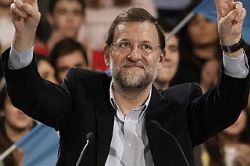 The news was confirmed shortly after 10.20 pm on Sunday night that Rubalcaba admitted defeat in the face of an obvious landslide vote in favour of the Partido Popular (PP) Opposition, with an estimated 15% of the count still to be processed.
The centre-right PP, led by Mariano Rajoy, took a decisive victory over the PSOE party, led by Alfredo Perez Rubalcaba and brings to an end 8 years of socialist rule under Jose Luis Roderiguez Zapatero. Zapatero had made his intention not to run in the election known for some time and had been absent from election camapigning on behalf of his party over concerns that his unpopularity could harm that of Rubalcaba.
Results by Region and Province can be seen by clicking the link HERE.
The result means that the PP will hold the majority in parliament and will not be forced into making alliances with any of the smaller of regional political parties.
Although the PP have not yet put forward any cast-iron policies that will address the wider economical situation, observers have suggested that they were voted into power for no other reason that 'they are not the PSOE' and that the public simply wished to punish the previous administration for unpopular cuts in public spending, austerity measures and rocketing unemployment.
Just last week the president of the Spanish Banking Association (AEB), Miguel Martin, warned that due to the serious state of the economy, the new government will have neither the traditional courtesy within 100 days to explain what it will do and predicted that, if a decision maker in the immediate markets will do it for him.
The conservatives are expected to continue with cuts to public spending and had previously promised that further tax hikes would not be implemented, but the change in administration brings with it further question that are as yet unanswered :
AENA : Will the privatisation of the 49% Government stake in the National Airports Authority proceed as planned under the previous administration - if at all ?
The Lottery : Ditto above.
Same Sex Marriage : Rajoy had already declared that the issue is 'unconstitutional' and that such marrigaes would be review under the PP.