Biggest PSOE Defeat in 30 Years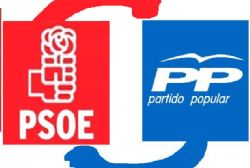 Even before the polling stations opened, opinion polls had been predicting a landslide victory for the Partido Popular, however the PSOE presidential candidate, Alfredo Perez Rubalcaba had countered that ' Opinion Polls were one thing, how the vote went on the day is another'.
In the end the victory was perhaps more decisive than even Mariano Rajoy could have hoped for.
With around 5% of the vote still to count, and with the PP holding 186 seat – an absolute majority – to the PSOE's 110, Rubalcaba conceded defeat.
The result of the 2011 general election sees the PSOE losing 59 seat in parliament, more than 5 Million votes and representing the worst loss for the Socialists since Spain's return to democracy.
However, the alarming trend of the number of citizens seemingly losing patience with politicians and the political system overall has continued from the local elections held earlier in the year.
A total of 34'952'313 Spanish citizens were eligible to vote in this year's general election. Of this number 24'590'557 actually returned a valid vote (70%), with 9'710'775 abstaining from the vote (28% ), 333'095 submitting a 'no vote' (1%) and 317'886 returning a void ballot paper (1%).