Over half of visitors to Spain arrive on budget airlines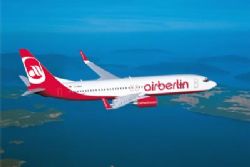 Recent statistics have shown how more than 50% of the 32 Million passengers arriving in Spain in the first 10 months of 2011 did so on low cost carriers.
Ryanair, Easyjet and Air Berlin carried the majority of visitors to Spain over this period, with the former two airlines seeing a significant growth in both passenger numbers and turnover, with the later struggling in the face of a recent aviation tax applied the German Government.
In the year to October Easyjet returned a profit of 262 million euros, despite a 116 million euro increase in fuel costs, which was overcome with the tight control of margins by management. The carrier registered a turnover of 4.036 million euros in the last 12 months, up 16.1% on the 3,476 million euros reported for the the same period last year. During this period a total of 54.5 million passengers flew with the airline, an increase of 11.8%, with it´s occupancy increasing 0.3% to 87.6%.
Ryanair ended it´s financial year on March 31st, returning a net profit of 401 million Euros an increase of 26% on the previous year. This came despite the airline being forced to cancel 14,000 flights due to adverse weather conditions and the Icelandic volcano eruption, which was estimated to have cost the airline 29.7 million euros.
The carrier managed to increase turnover 21% to reach 3630 million euros, with passenger numbers increasing by 8% on the previous years to reach 72.1 million.
The third major low cost airline in Spain, Air Berlin, reported a loss of 134.3 million euros in the first 9 months of 2011. However, the airline managed to increase turnover 16.5%, to reach 3273.3 million. In Q3 net profit fell 77.8% to 30.2 million euros.
In the first 9 months of 2011 its gross operating profit (EBITDA) had dropped to 385.9 million, while net operating profit (EBIT) recorded a loss of 123.7 million euros, compared to earnings 44.8 million in the same period on the previous year. The CEO of the airline, Hartmut Mehdorn, commented : "if it were not for the aviation tax recently implemented by the German government, EBIT would have amounted to 148.3 million," and called for the tax to be abolished. He criticized the measure due to stiff competition making it imppossible to pass the taxes over to the client.