S&P keep Spainīs AA- rating following election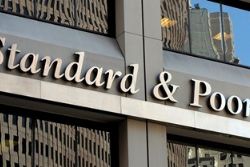 Earlier today Standard & Poor's credit ratings agency confirmed its AA- rating on Spain's debt, however the threat of a further downgrade still remains in place following the election of a new government, and also maintained its negative outlook on the countryīs ratings.
S&P acknowledged that the landslide victory gained by the PP "could facilitate frontloaded implementation of reform measures", but that the state of the countryīs economy remained fragile due to the excessively high rate of unemployment.
Standard & Poor also said how they expect that measures to reform the ailing economy will be both imminent and far reaching under the new government.