Coastal municipalities carry PP vote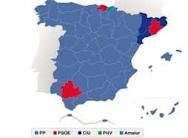 The landslide victory received by the Popular Party in the general election, was largely due to the overwhelming support from the popular Spanish tourist resorts, with the notable exception of the region of Catalonia, who voted in favour of the CiU.
The collapse of the Spanish property and construction industry in 2008 effected the coastal regions more than others, leaving a glut of unsold properties.
In Murcia Cartagena 64.1% voted in favour of the PP, Alhama de Murcia - Home of the Paramount Pictures Theme Park - voted 62.2% in favour, and San Javier - Home of the `soon to be closed´ airport - voted 67.5% in favour.
In the Region of Valencia, Benidorm voted 56.9% in favour, Gandia 56.3%, Cullera 58.4%, Santa Pola 59.6%, Denia or 48.6% and 55.2% in Benicassim.
In the Balearic Islands Mallorca voted 49.9% in favour of the PP, Calvia voted 48.9% in favour, Palma, 52.3% Llucmajor 46.06%, Ciutadella de Menorca 50.7%, Ibiza 48.9% and Formentera 43.05%.
The trend followed suit on the Costa del Sol : In Estepona 55.5% voted in favour of the PP , Benalmádena 52.2%, Fuengirola 59.02%, Marbella 51.8%, Manilva 52.7%, Mijas 51.9%, Torremolinos 56.2% and 50.05% in Malaga.
In the Canary Islands, Mariano Rajoy's party also took the majority vote in San Bartolomé de Tirajana with 53.36%, but with a smaller lead in Adeje (42.01% to 31.6% PSOE), Arona (46.8% PP and PSOE 23.7%), Puerto de la Cruz (47.8% PP, PSOE 29.4%), and Teguise (38.8% PP, PSOE 28.2% ).