AVE Connection to Corvera `not expected until 2017´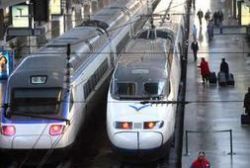 The PSOE has called upon the Regional Government of Murcia and the Ministry of Development to improve the rail links of short, medium and long distance from Cartagena, to increase the frequency of trains, reduce travel times and improve links with Murcia, Lorca, Madrid, Alicante, Valencia, Barcelona and across the border to France.
The PSOE´s regional spokesman for Infrastructure, Aniceto Garcia, said that proposals include short term measures to advance services provided by RENFE early next year and to lessen the isolation the area has experienced from Madrid and other areas of Spain over recent years.
As yet no date has been given for the arrival of the AVE to the city, however this is expected to be by 2014. The connection between the Puerto de la Cadena are of Murcia to Corvera airport is not expected to be operational until at least 2017.
The Socialists have also called for the line between Murcia and Cartagena to be electrified, which would allow speeds of 260kmh between the cities.
A further advantage of electrifying the line is that it can reduce the journey time, which can take between 5 and 5.30 hrs between Cartagena and Madrid, by half. The first two diesel- electric hybrid trains have already been place on order.