Catalan Premier calls for tax increases and public salary cuts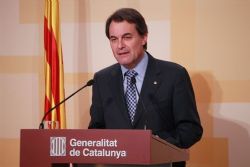 The President of Catalunya, Artur Mas, has announced that the region will be increasing itīs austerity measures for 2012 in order to meet the deficit target imposed by central government of 1.3%
It is proposed that this is to be achieved by cuts to public spending, increasing certain taxes and reducing many salaries in the public sector.
Yesterday Mas acknowledged that further cuts could not be made without having a significant effect on public services: "If we continue to reduce spending in very sensitive areas significantly... we might put some of the services we consider to be essential in danger or at risk ", he said.
Mas also complained that if the region was not forced into subsidising other poorer regions it would not struggle to cover itīs deficit.
The President leader of the CiU warned Rajoy that the financial agreement that the party has proposed for Catalonia is "one of the few opportunities left" which can heal "the relationship between Catalonia and Spain".
Mas announced an increase in certain taxes and public fees such as the fuel tax, transport fees, water supply prices, and university fees. Furthermore, if the new Spanish Government does not eliminate the newly introduced Wealth Tax in 2012 , the Catalan Government will in turn claim a percentage from the revenue generated. The Generalitat will also continue selling off surplus real estate assets and the privatisation process of public companies.
With regards to cutting costs through the reduction of salaries for public workers, he justified this as being reasonable due to employees having a secure job for life.
With these measures in place, Mas explains that the 1.3% of GDP deficit can be met, with a 1 Billion Euro saving by the end of 2012. Although certain measure will remain in place until 2018, where deficit is projected to reach 0.14%, the initial year will see the most significant changes.
The current administration were voted into office just last year, inheriting a 4.2% deficit, estimated to fall to just 2.66% by the end of 2011 through a saving of 2.7 Billion Euros.