Ryanair announce new route to Malaga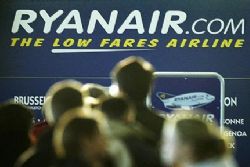 Yesterday Ryanair announced a further a new Spanish route - this time connecting Malaga on the costa del sol and Leipzig in eastern Germany. The route will commence on March 26th next year, and will operate every Monday and Friday.
To celebrate this new route Ryanair has launched a promotion that lasts until midnight Thursday which offers tickets on all routes at 9.99 euros, including taxes. The trip can be made between December and January and Monday through Thursday.
The Head of Marketing and Sales for Ryanair Spain, Luis Fernandez-Mellado, commented how Leipzig is "one of the most important cities of Northern Germany, with a vibrant campus life and a glorious musical past."
"Known as the city of Bach, tourists visiting from Andalusia can enjoy the Leipzig Gewandhaus Orchestra, the Opera and its rich choral tradition, a musical atmosphere that pervades every corner of Leipzig," said Fernández-Mellado.